Katja Münker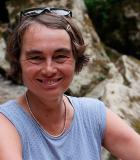 Dance | Choreography | Performance | Somatics | Artistic Research | Walking Art | Mountain Hiking Guiding
Continuing education lecturer and director of Environmental Somatics and EMERGE/ Somatic in Dance at the Somatische Akademie Berlin. Member of the German Feldenkrais Association & ISMETA-registered RSME/RSMT/RSDE.
Trained as a physical therapist, Feldenkrais teacher, and mountain hiking guide, as well as in contemporary dance, (contact) improvisation, instant composition.
Conscious and embodied learning, the potential between individual freedom and collective inclusion in the environment, as well as joy, ease, and consciousness in the movement are the focus of her teaching. Her research-oriented practice is informed by deep-sensing investigation and reflecting evaluation. Beyond teaching her work includes performance projects, conference papers, and publications focusing on somatics and choreography, as well as on walking. Regular teaching at universities including FU Berlin, UdK Berlin, and HZT Berlin. Artistic research collaboration with AREAL_artistic research lab Berlin.