Somatisches Bewegungstraining
zur Zeit als Online-Kurs
In diesen außergewöhnlichen Zeiten ist nichts wichtiger als in Kontakt mit sich selbst zu sein und nichts kann schwieriger erscheinen. In dieser Stunde lade ich alle ein, in eine Spür- und Bewegungserfahrung mit sich selbst zu kommen.
Ich leite alle Teilnehmenden durch Bewegungsübungen und körperliche Erkundungen. Diese stärken die eigene Wahrnehmungsfähigkeit und körperliche Anbindung und können allen gleichzeitig Erdung und Kraft geben, wie auch die eigene Resilienzfähigkeit unterstützen.
Für die Teilnahme wird benötigt: 
ein Online Zugang
Platz am Boden auf einer Decke
die Möglichkeit ins Stehen zu kommen oder auf einem Stuhl sitzen zu können.
Bei ökonomischen Schwierigkeiten bitte bei der Kursleitung melden. 

Für die Übertragung der Klasse wird ZOOM genutzt. 
Anmeldung direkt bei Heike Kuhlmann. 
Ausführliche Seminarinformationen
Seminarleiter*innen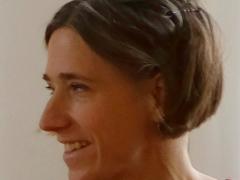 Heike Kuhlmann works as dancer, pegagoge, choreogafer and BMC® Somatic Movement Educator/Therapist (SME/SMT). Her diploma in Integrative Bodywork & Movement Therapy (DIPL IBMT) has the emphasis on Body-Mind Centering®, Authentic Movement and Somatic Psychology. Since her Master in Performance Studies/ Choreografy she researchs how somatics can support the artistic expression. Being member of the Global Water Dances Performance Kollektiv Berlin she dances and choreografs sitespecific performances on the subject of water. She works on the connections between art/politics and art/pedagogy/therapy. In Berlin she teaches Contact Improvisation, Somatic Movement Education (e.g. Embodying Movement, Authentic Movement) and Contemporary Dance.
Kosten
11-14 € Sliding Scale 
Zahlung direkt bei KursleiterIn
Bei ökonomischen Schwierigkeiten bitte bei der Kursleitung melden. 
Daten
VeranstaltungsortOnline