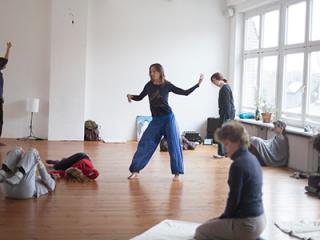 - Body-Mind Centering®
BMC® ongoing classe on thursday
What focusses this series?
Spring is here and we experience the world with all our senses. We see the explosion of colors, smell the scent of flowers, hear the birds chirping, a different urge to move may arise. But how can we experience the senses within us? And what does a somatic exploration of our senses change in our being with the outer and inner world. How can we use a conscious activation of senses for our well-being, for our joy in creative expression in movement.
In this Body-Mind Centering® series of 8 sessions, we take time to explore and embody our senses. 
BMC classes can be structured very differently depending on the theme. The classes include the following elements in different sequences: personal movement improvisations, attuning to content somatization, guided movements, "hands on" (alone or with others), integration in movement/dance/play, exchange. As a participant you have space for somatic immersion and exploration and can pay attention to what you need for your own well-being.
What is Body-Mind Centering®?
Body-Mind Centering® is a somatic approach that exploring one's body from the cellular to macro structures like body systems. Each class includes a somatic exploration on a theme. It is about one's own embodiment of that theme through somatization, movement and touch. In the hour a body resonates in its own way. In doing so, a curious state of mind is invited to engage with what wants to emerge from the resonance. People can resonate in different ways, so that different movement impulses can result in a diversity in space, which still is connected by the mind of the body theme. How do different themes show up in one's own experience? Sharing about one's own experience brings a moment of reflection.What do experiences from Body-Mind Centering® enable you to do in your daily life?
With the different teachers there is the possibility to dive into Body-Mind Centering® in different ways.
The upcoming Body-Mind Centering® Training will be from the 19th of January until 12th of April 2024.
Ausführliche Seminarinformationen
Kosten
Dates
25th of May - 13th of July 2023 | Thursdays 6pm - 8pm | 8 sessions with Heike Kuhlmann
Next series: 20th of July - 31st of August 2023 (7 sessions)
Costs
15-22€ | drop-in (trainees at SAB 10 €)
104€ | 96€ reduced

Monthly price 50 € (3 months registration minimum)
Please pay on site, directly to the teacher Heike Kuhlmann. 
Anmeldeinformationen
Zeiten
Thursdays 18:00 - 20:00
Veranstaltungsort
Berlin
SAB Studio 1
Paul-Lincke-Ufer 30
Berlin
Preise
Sozialpreis: 96.00 EUR
Full Price: 104.00 EUR
Zahlung Bezahlung vor Ort
Hinweise
Please pay directly on site to the course instructor and do not hesitate to contact us for registration and questions via Mail at Heike Kuhlmann. 
The upcoming Body-Mind Centering® Training will be from the 19th of January until 12th of April 2024.