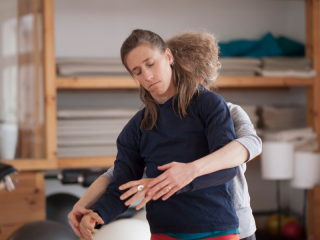 - Authentic Movement
Discover yourself in the moment!
Authentic Movement offers a place to be present in the now, to be with yourself, to take a break from your daily routine and find space for yourself.
The specific outer form offers the possibility of inviting the unknown and to dive into your personal movement sequence. The mover is accompanied by an outer witness that invites the mover to show herself in that moment practising judgement-free presence. To surrender to the body and the unknown, can reveal new aspects of ourselves. As witness you develop comprehension about us as human beings and about life. Practising speaking and writing in a way that is free of judgement, offers change of our usual habits and perception.
The weekend gives time for your own process, to get to know Authentic Movement as well as deepening your practice.
Ausführliche Seminarinformationen
Seminarleiter*innen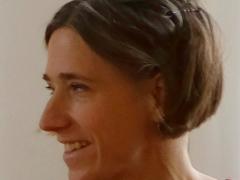 Heike Kuhlmann works as dancer, pegagoge, choreogafer and BMC® Somatic Movement Educator/Therapist (SME/SMT). Her diploma in Integrative Bodywork & Movement Therapy (DIPL IBMT) has the emphasis on Body-Mind Centering®, Authentic Movement and Somatic Psychology. Since her Master in Performance Studies/ Choreografy she researchs how somatics can support the artistic expression. Being member of the Global Water Dances Performance Kollektiv Berlin she dances and choreografs sitespecific performances on the subject of water. She works on the connections between art/politics and art/pedagogy/therapy. In Berlin she teaches Contact Improvisation, Somatic Movement Education (e.g. Embodying Movement, Authentic Movement) and Contemporary Dance.
Kosten
Early Bird: 144€ (until the 30th of June 2021)
Regular Price: 170€
Anmeldeinformationen
Veranstaltungsort
Berlin
ZYS 3.OG
Paul-Lincke-Ufer 30
10999 Berlin
Preise
Earlybird: 144.00 EUR
Full Price: 170.00 EUR
Zahlung Banküberweisung, PayPal