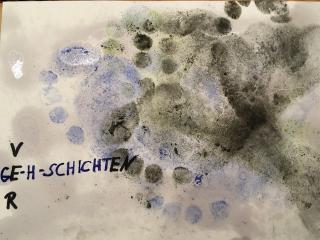 - Abschlussperformance der Fortbildung EMERGE
Die Vorstellung wird live via Facebook übertragen.
Landschaften aus improvisiertem, choreographiertem, projiziertem Tanz werden zu Körper-Geschichten - verschichtet, neugeschichtet, umgeschichtet. Körper spüren als Ensemble und als Solo Gleichzeitigkeiten nach, erheben ihre Stimme, geben Raum, nehmen sich eine Bühne, erforschen innere Momente, entfalten Wege, bewegen Fragen, treten in Erscheinung, zeigen Widersprüche, begegnen Publikum.

Performer*innen: Dominique Golbach, Finnja Willner, Franziska Benkel, Heike Maaz, Janet Alvarado, Maike Hofmeister, Sina Placzek & Sophia Guttenhöfer

Künstlerische & Pädagogische Leitung: Heike Kuhlmann
Gastdozent: Andrew Wass
Wer die Performance sehen möchte kann dies über den Live-Stream via Facebook tun: https://www.facebook.com/live/producer/schedule/860729198020603
Ausführliche Seminarinformationen
Seminarleiter*innen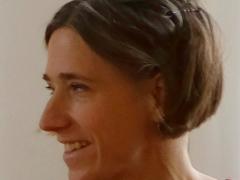 Heike Kuhlmann works as dancer, pegagoge, choreogafer and BMC® Somatic Movement Educator/Therapist (SME/SMT). Her diploma in Integrative Bodywork & Movement Therapy (DIPL IBMT) has the emphasis on Body-Mind Centering®, Authentic Movement and Somatic Psychology. Since her Master in Performance Studies/ Choreografy she researchs how somatics can support the artistic expression. Being member of the Global Water Dances Performance Kollektiv Berlin she dances and choreografs sitespecific performances on the subject of water. She works on the connections between art/politics and art/pedagogy/therapy. In Berlin she teaches Contact Improvisation, Somatic Movement Education (e.g. Embodying Movement, Authentic Movement) and Contemporary Dance.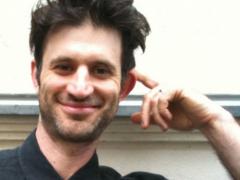 Andrew Wass
, a graduate of the MA SoDA program of the Hochschulübergreidendes Zentrum für Tanz, has been performing and making work for the past 17 years. A member of the 
Lower Left Performance Collective
, he has taught and performed in universities, theaters, and festivals in Germany, Denmark, Japan, and throughout the United States. 
nonfictionperformance.org