Marion Evers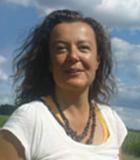 Theater, Linguistics & Political Science M.A., Founder of the Somatic Academy Berlin and the Center for Yoga and Voice
many years of work in the field of directing & dramaturgy, author. Since 2004 Yoga teacher and facilitator of the BDY/EYU, Somatic Yoga trainer. Breath therapist according to Prof. Ilse Middendorf, breath & voice instructor. Besides the encounter of eastern and western philosophical concepts of the body, her main interest is the theory & practice of somatic practices as well as the questions of social and political relevance of "somatics" today.
Nächste freie Termine
Im aktuellen Einzelarbeitskalender sind keine freien Termine vorhanden.