Heike Kuhlmann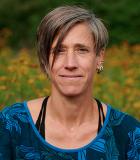 Dancer, -educator, choreographer, Body-Mind Centering® SME -Integrative Bodywork and Movement Therapy-SMT, MA Performance Studies/Choreography, Mother
Since 2005 various research formats on dance and somatics. 2010-2021 Global Water Dances Performance Collective of Berlin - site-specific performances on the theme of water. As an ISMETA registered Somatic Dance Movement Educator (RSDME/RSME), she is interested in the human unfolding process, including the ability to meet others at eye level, find freedom of choice, and express creativity. The somatic approaches Body-Mind Centering® and Authentic Movement support creative processes by inviting complexity, dimensionality and diversity The self and relationship to the environment can be explored. Contact Improvisation is a dance form with two or more dancers by sharing a point of contact and weight. 2018-2019 Continuing Education: Discipline of Authentic Movement, Contact Improvisation.
Nächste freie Termine
Im aktuellen Einzelarbeitskalender sind keine freien Termine vorhanden.