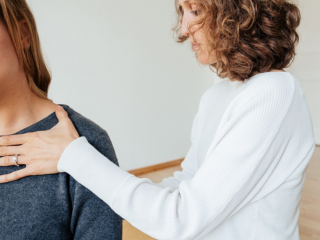 Somatic evening: class & dinner
Dec. 13 2019 – Dec. 11 2020
The somatic evening consists of a class followed by a cozy potluck dinner and group togetherness. The two hour class at the beginning of the evening sets the tone by introducing a somatic practice and creating the space for the group to experience, explore and share some of this work. 

Each class will be focussed around one particular practice such as Body-Mind Centering®, Breema®, Meditation, Yoga, Alexander Technique or (new combinations) of these. The somatic evening offers an easy opportunity to get to know new approaches, be inspired by new impulses and experience different teachers and teaching styles. Both somatic newcomers as well as experienced movers & bodyworkers are warmly welcome to join!

After the class, there is a potluck dinner (everyone should bring a simple dish and drinks)! We can hang out, eat together, talk about what came up in the class, continue with some bodywork, dance or use the studio as we like.
Overview of dates 2020: 
21.02. (Nina Spiri - Body-Mind Centering®)
13.03. (David Young - Alexandertechnik) 
17.04. (Nina Spiri - Body-Mind Centering®)
19.06. (Viktoria Renpennig - Ashtanga Yoga Gentle)
17.07. (Ralf Hiemisch - Hip to Hip)
14.08. (Aaron Bandix-Baldley - Embodying Nourishment)
18.09. (Dino Spiri - Touch & Movement)
02.10.(Raffaela Then - Inspired by Breema®)
13.11. (Julia Kleinknecht - Body-Mind Centering®)
11.12. (Maria Coma - Voice & Movement)
Ausführliche Seminarinformationen
Seminarleiter*innen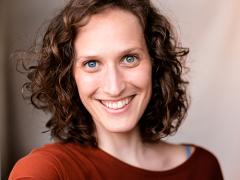 Nina Spiri is Somatic Movement Educator (BMC®) and innovation trainer. She loves journeys that lead you into the different tissues of your body and open the possibility to sense and get to know yourself better. Bringing awareness to a specific topic, anatomical facts, touch and movement, she likes to invite you to experience your own body more consciously and experience it more as 'home'. Next to her passion for BMC®, Nina supports multidisciplinary teams with empathy, communication and creativity techniques to generate ideas and innovative solutions.
Kosten
Donation: 3-5 € per class
Payment directly to the instructor
Register: Nina Spiri
Please ring the bell at 'Zentrum für Yoga & Stimme 3.OG' - the studio is on the 3rd floor in the 2nd backyard.
Anmeldeinformationen
Zeiten
Dec. 13 2019 –
Dec. 11 2020
Daten
VeranstaltungsortOnline