Contact Improvisation
Winter Series with Elske Seidel
Dec. 3 2020 – Jan. 28 2021
The winter series offers insight into core principles, movement skills and qualities essential for dancing Contact Improvisation. As we dance, we will explore and play with different technique-based tools as well as image-based inspiration. Thereby supporting us in developing our own language in CI.
Together we will learn, research, and gradually discover the subtleties which allow us to dive into a deeply fulfilling experience – moving in solo and in contact.
This series is welcoming people with no previous experience in CI as well as people who wish to refresh and deepen their knowledge. Classes will build up successively and invite continuous practice.
No class on the 24th and 31st of December.
Registration: http://elskedance.de/de/events/5f75a348ba7321fa2eb9464d/view
next series: 4th of February - 18th of March 2021 
photo@Patrick Beelaert
Ausführliche Seminarinformationen
Somatische Akademie offers again different CI series throughout the year with different teachers.

You have the opportunity to continuously deepen your CI practice every Thursday evening.

The series are open to all levels and aim to be inspiring for people with previous experience in CI and also work for newbies to Contact Improvisation. Basic techniques and qualities of CI form the basis of each series. Each teacher will introduce specific topics and interests.

We will feel, explore, experience, learn and dance a lot!



Seminarleiter*innen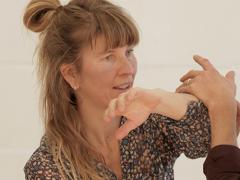 Elske Seidel, is a passionate CI dancer & teacher, deeply committed to CI and its community internationally. She has been teaching dance full time and wholeheartedly for over two decades, CI since 2004. Her boundless fascination and joy exploring and researching Contact Improvisation in all its depth and subtleties, inspires her workshops, privates, ongoing classes, and each of the projects she creates. Her work recognizes nature, improvisation and teaching itself as core sources for knowledge and understanding. Meeting the moment, she offers organic support for the individual and the instant community as it emerges, allowing each to feel, find and follow what they need to learn and dance. She is the artistic director of the Annual Contact Festival Fuerteventura/ Spain and co-creates Dance Your Question: CI Research Week for Experienced Contact Dancers, CI Training Program Hamburg/ Germany, CI Basic Training Hamburg/ Germany and Nature as Teacher Workshops among other projects. 
www.elskedance.de – www.canarian.contactfestival.info
Kosten
Early Bird: € 91 (until 5.11.2020)
Regular price: € 105
Anmeldeinformationen
Zeiten
Dec. 3 2020 –
Jan. 28 2021
Daten
VeranstaltungsortOnline