Contact Improvisation Winterserie II
mit Elske Seidel und Dino Spiri
Feb. 4 2021 – Mar. 18 2021
Winterserie 2 mit 7 Terminen
04.02.2021-18.03.2021
Die Winterserie lädt ein, die Wesensprinzipien der Contact Improvisation zu erleben, im Solo und im Kontakt zu erforschen und genussvoll zu vertiefen. Menschen ohne Vorkenntnisse sind willkommen, sowie Menschen, die ihr Basiswissen auffrischen und erweitern möchten. Die sieben Termine bauen inhaltlich aufeinander auf und laden ein CI kontinuierlich zu praktizieren.
Wir werden Bewegungsqualitäten im Kontakt mit dem Boden und der Schwerkraft somatisch erspüren und von innen die Techniken verfeinern, die ein müheloses Spiel mit Gewicht ermöglichen. Dabei steht der eigene Körper mit seinen Möglichkeiten im Mittelpunkt. Unsere Wahrnehmung erweitert sich und eröffnet Zugang zu einer eigenen Bewegungssprache.
Im Kontakt erleben und verstehen wir die differenzierte Kommunikation in der Contact Improvisation, das Spiel der Schwerkraft wird spürbar, ein Tanz voller Möglichkeiten und Inspiration eröffnet sich.
Der Situation angepasst findet der Kurs entweder vor Ort oder online statt. 
Infos und Anmeldung:
Anmeldung direkt bei KursleiterIn:
http://elskedance.de/de/events/5f75a382ba7321fa2eb9464e/view
nächste Serie: Frühjahrsserie mit Elske Seidel | 25. März – 24. Juni 2021 | 14 Termine / € 182 (25.2.), später € 210
Ausführliche Seminarinformationen
Somatische Akademie offers again different CI series throughout the year with different teachers.

You have the opportunity to continuously deepen your CI practice every Thursday evening.

The series are open to all levels and aim to be inspiring for people with previous experience in CI and also work for newbies to Contact Improvisation. Basic techniques and qualities of CI form the basis of each series. Each teacher will introduce specific topics and interests.

We will feel, explore, experience, learn and dance a lot!



Seminarleiter*innen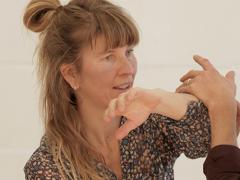 Elske Seidel, is a passionate CI dancer & teacher, deeply committed to CI and its community internationally. She has been teaching dance full time and wholeheartedly for over two decades, CI since 2004. Her boundless fascination and joy exploring and researching Contact Improvisation in all its depth and subtleties, inspires her workshops, privates, ongoing classes, and each of the projects she creates. Her work recognizes nature, improvisation and teaching itself as core sources for knowledge and understanding. Meeting the moment, she offers organic support for the individual and the instant community as it emerges, allowing each to feel, find and follow what they need to learn and dance. She is the artistic director of the Annual Contact Festival Fuerteventura/ Spain and co-creates Dance Your Question: CI Research Week for Experienced Contact Dancers, CI Training Program Hamburg/ Germany, CI Basic Training Hamburg/ Germany and Nature as Teacher Workshops among other projects. 
www.elskedance.de – www.canarian.contactfestival.info
Kosten
Kurskosten: € 91 (Early Bird bis 07.01.21)
Grundpreis: € 105
Kurssprache: DE+EN
Anmeldeinformationen
Zeiten
Feb. 4 2021 –
Mar. 18 2021