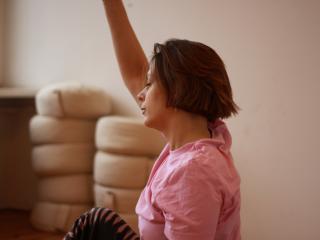 Yoga und Somatics fuer Endometriose

- Yoga & Somatics for Endometriosis 
Yoga series (closed group)

This eight-week movement course in a fixed group supports people with endometriosis on their self-determined path in dealing with their disease. It offers a holistic and mindful movement practice that is geared to the needs of people with endometriosis and helps to deal with accompanying symptoms such as pain, exhaustion, states of tension or anxiety. The focus is on developing acceptance and self-care, enjoying movement, and strengthening a trusting relationship with the body. 
This course offers:
The opportunity to deeply experience the body and self through yoga, mindfulness, embodiment, somatics and free movement.
Information on anatomical systems of the body that can support from the inside out in endometriosis. Among other things, we look at the dynamics and qualities of the breath, pelvis and pelvic floor, fascia, organs and nervous system, and explore this knowledge in movement
space to share experiences in a fixed group, to learn together and from each other 
Mindful touch in the form of partner*work.
For whom:
For people with or suspected of having endometriosis. All genders welcome. People with severe period pain or PMS can also benefit from this class.
If you have recently had surgery, you can also participate, but it is best to talk to your doctor beforehand about what you should be aware of. No previous yoga or somatics experience is necessary.
About my approach: 
I am a yoga teacher with in-depth knowledge and practice experience in trauma-sensitive yoga and Body-Mind Centering®, as well as other somatic approaches. As a person affected by endometriosis, I have explored over the years what helps me personally to improve my quality of life and accept the condition as part of me. The course offered does not provide a ready-made approach to confronting or even curing this disease. Rather, it is an invitation to develop one's own self-care and movement practice that can be integrated into one's life over the long term.
The course takes place in presence. We work in a fixed group with a maximum of 12 participants. The primary language is German, if necessary it can be partially translated and spoken in English. I am a trained yoga teacher but not a medical doctor, a self-reliant work with the body is a prerequisite.
Questions and registration via e-mail: maureennoe@web.de I will be happy to have a preliminary talk with you.
Ausführliche Seminarinformationen
Kosten
100-120 EUR, depending on income and self-assessment.
If the price prevents you from participating, feel free to talk to me.
*If you have a stable income from which you can live well, then the full price is appropriate. This is the price that covers my actual work and all costs that go into the course. The reduced price is for people who have a very low income. I trust you to make a fair and honest decision.
Anmeldeinformationen
Zeiten
8:00-10:00 pm (no course on 20.06. and 11.7.)
Veranstaltungsort
Berlin
ZYS 3.OG
Paul-Lincke-Ufer 30
10999 Berlin
Preise
Sozialpreis: 100.00 EUR
Full Price: 120.00 EUR
Zahlung Externes Zahlungsservice
Hinweise
Bitte keine Anmeldung via Webseite, nur direkt bei Kursleiterin Maureen: maureennoe@web.de
Bezahlung vor Ort.