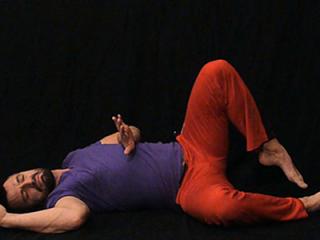 - Ouroborus - Moving medicine from the dark -
Continuum workshop with Kai Erhardt (6 days + 2 nights)
This event can be booked separately as workshop, or can be joined as a module of the Continuum Advanced Training. Ample experience in Continuum is required.
This module is dedicated to the themes of life cycles, death and initiation. Over the first four days, a Continuum sequence is introduced, explained and practised. 
Each element has a different function and effect on the overall system, but all train permeability, presence and the ability to surrender from a place of receptivity. 
From the bones to the skin, from the breath to the metabolism, and from head to toe, the body is brought into vibration through movements and sounds and thus becomes more receptive to subtle impulses and self-regulatory processes on a physical and energetic level. The "knowledge" of the body that can be experienced through movement is invited and expressed in movement awareness. All participants practise for themselves, within a sound resonance field created and sustained by the group. Each day ends with a longer continuum sequence that integrates the work of the previous days. 
The last 42 hours are no longer interrupted by language. This allows everyone to engage with their own rhythms and themes. 
What does Ouroborus mean? 
Ouroborus is a symbol of the eternal cycles and transformations in nature and cosmos - every end is a beginning. In Continuum, we dive into the body and under our regular everyday consciousness. It is a deepening process from rational thinking to the Eros of whole-body healing resources and the self-regulatory freedom of movement expression. 
What will happen?
The body is brought into oscillation on all levels through movements and sounds, in pleasurable expansion and slowness - inhalation & exhalation, expansion & contraction, becoming & deconstructing. Permeability, presence and the ability to receptively surrender are trained. What is no longer necessary integrates or dissolves, new information emerges - physically, emotionally, inspirationally, trans-rationally
What is possible in the process?
The whole system body-psyche-environment reorganizes and regulates itself. We invite our own innate medicine - images, sensations, insights. Our own physicality opens up inner resources, creates balance, clarifies and strengthens the Self. 
Ausführliche Seminarinformationen
Seminarleiter*innen
Founder of the Somatic Academy Berlin, Breath Therapist/based on the work developed by Prof. Ilse Middendorf, Continuum Teacher and Heilpraktiker (Psychotherapy)
"I had the honor and privilege to learn from the two founders Prof. Ilse Middendorf (Perceptible Breath / Erfahrbarer Atem) and Emilie Conrad (Continuum) and I am pleased to be able to pass on this work." Since 2012, Kai has been developing professional trainings at the Somatic Academy as well as programs dedicated to the application of Somatics in everyday life. He has been a co-curator of the Body IQ festival since 2015. Since 2003, he has developed the approach "Authentic Eros", which integrates - as a somatic application - bodywork, relationship communication and group-dynamic processes in the area of personal and interpersonal development. He is a member of the professional associations Atem, Continuum and ISMETA.
Kosten
Costs
Single module
580€ | 490€ early bird until 08th of September 2025
Complete Continuum Training
3400€
If you want to repeat the Continuum training, you get a discount and pay only 2400€. The possibility of repeating the module depends on the capacity of the room.
Dates
19th - 24th of November 2024
Anmeldeinformationen
Zeiten
tuesday, wednesday and thursday 10am - 5:30pm friday 12pm - sunday 2pm
Preise
Earlybird: 490.00 EUR
Full Price: 580.00 EUR
Zahlung Banküberweisung, PayPal
Hinweise
This module is part of the Continuum Advanced Training and can be booked individually. Ample Continuum experience is required.
The Continuum training will be held in a two-year cycle and consists of eight modules. All of them can be booked separately as well. Taking part to the complete program is possible at any time.
Depending on the module, they will take place at the Somatic Academy or in The Village.
This training will take place here:
Somatische Akademie | Paul-Lincke Ufer 30 | 10999 Berlin
19th - 24th of November 2024
Continuum is offered as a regular class at the SAB with Kai Erhardt.