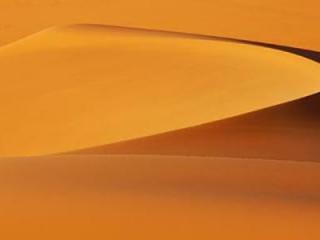 - Vernetzung – Übergänge 2 – Raum und Gruppe
Somatic Yoga Modul 4
Vernetzung – Übergänge 2 – Raum und Gruppe
Körperschwerpunkt: Nervensystem / Sinnesorgane
Yoga: komplexe Asanaverbindungen - Bewegungsübergänge + Verbindungen der bisher
gelernten Folgen untereinander - Umkehrhaltungen - Meditation
Nada Yoga
Somatics: Feldenkrais, Continuum, Erfahrbare Anatomie, Erfahrbarer Atem
Ausführliche Seminarinformationen
Seminarleiter*innen
Founder of the Somatic Academy Berlin, Breath Therapist/based on the work developed by Prof. Ilse Middendorf, Continuum Teacher and Heilpraktiker (Psychotherapy)
"I had the honor and privilege to learn from the two founders Prof. Ilse Middendorf (Perceptible Breath / Erfahrbarer Atem) and Emilie Conrad (Continuum) and I am pleased to be able to pass on this work." Since 2012, Kai has been developing professional trainings at the Somatic Academy as well as programs dedicated to the application of Somatics in everyday life. He has been a co-curator of the Body IQ festival since 2015. Since 2003, he has developed the approach "Authentic Eros", which integrates - as a somatic application - bodywork, relationship communication and group-dynamic processes in the area of personal and interpersonal development. He is a member of the professional associations Atem, Continuum and ISMETA.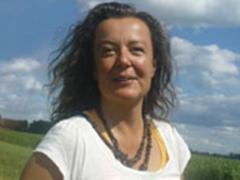 Theater, Linguistics & Political Science M.A., Founder of the Somatic Academy Berlin and the Center for Yoga and Voice
many years of work in the field of directing & dramaturgy, author. Since 2004 Yoga teacher and facilitator of the BDY/EYU, Somatic Yoga trainer. Breath therapist according to Prof. Ilse Middendorf, breath & voice instructor. Besides the encounter of eastern and western philosophical concepts of the body, her main interest is the theory & practice of somatic practices as well as the questions of social and political relevance of "somatics" today.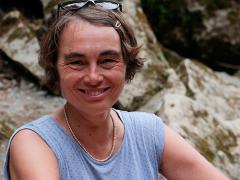 Dance | Choreography | Performance | Somatics | Artistic Research | Walking Art | Mountain Hiking Guiding
Continuing education lecturer and director of Environmental Somatics and EMERGE/ Somatic in Dance at the Somatische Akademie Berlin. Member of the German Feldenkrais Association & ISMETA-registered RSME/RSMT/RSDE.
Trained as a physical therapist, Feldenkrais teacher, and mountain hiking guide, as well as in contemporary dance, (contact) improvisation, instant composition.
Conscious and embodied learning, the potential between individual freedom and collective inclusion in the environment, as well as joy, ease, and consciousness in the movement are the focus of her teaching. Her research-oriented practice is informed by deep-sensing investigation and reflecting evaluation. Beyond teaching her work includes performance projects, conference papers, and publications focusing on somatics and choreography, as well as on walking. Regular teaching at universities including FU Berlin, UdK Berlin, and HZT Berlin. Artistic research collaboration with AREAL_artistic research lab Berlin.
Teilnehmerstimmen
»What better way to connect to your child than through contact improvisation?!«
— Naomi // Berlin
»A space for gentle growth and mindful development! With and by loving, professional companions who work with the depth of their own experience!«
— Na Mi // Berlin
»For me, the Somatic Basics Training is a year of experience, research and learning that connects me with myself and the world again and again. It inspires and accompanies me in my own search for meaning. «
— KS // Berlin
»Somatic teaches me to be mindful with my own body and myself. It leads me to an unbiased consideration of my needs and feelings. You could also call it self-love. «
— M.M. // Berlin
»I have become more sensitive to my body and its structures. I identify my body more than before as my home. «
— TL // Berlin
»Somatic gives me more awareness and thus love and attention for my body. «
— Henriette // Berlin
»Thank you for the wonderful journeys through the inner and outer landscapes.«
— Miriam // Berlin
Anmeldeinformationen
Zahlung Keine Einzelbuchung
Hinweise
Dieses Modul ist Teil der Somatic Yoga Ausbildung (500 UE) und kann nicht einzeln gebucht werden. 
Anmeldung:
Alle Fragen und Formalitäten für eine Anmeldung klären wir in einem individuellen Vorgespräch. Wir freuen uns auf eine Terminvereinbarung unter: info@somatische-akademie.de
Erst wenn der Ausbildungsvertrag von beiden Seiten unterschrieben wurde ist die Anmeldung verbindlich.