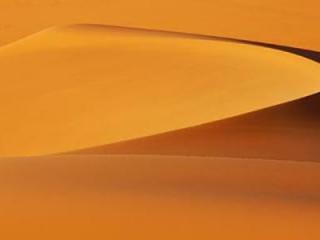 - Elastizität
Somatic Yoga Modul 9
Elastizität
Methodenschwerpunkt: Yoga & Feldenkrais
Prinzipien: Dynamik / Kraft / Dosierung / Richtung
Erfahrbarer Anatomie
Ausführliche Seminarinformationen
Dates
24th of September 2022 - 22nd of March 2024
Curriculum 1st year of education (Yoga basic education 200h)
Module 1

24.09.-30.09.2022 | Ground - Beginning - Starting point

Bodily focus: Cells / Spine
Yoga: Basics of the wave movement of the spine - lying asanas / lying basic positions - breath perception - breath and movement
Somatics: Feldenkrais, Continuum, Experiential Anatomy, Experiential Breath 

Module 2

14.11.-20.11.2022 | Off the ground - Transition 1 - Between animal and human

Bodily focus: Skeleton / Muscels-Faszia-Synergy 1
Yoga: Pranayama - Quadruped asanas - Flowing and holding – Yoga Nidra
Somatics: Feldenkrais, Continuum, Experiential Anatomy, Experiential Breath

Module 3

21.01.-27.01.2023 | Into standing upright - sincerity

Bodily focus: Diaphragma-levels / Muscels-Faszia-Synergy 2
Yoga: Pranayama – Standing asanas – Alignement – Balancing asanas
Somatics: Feldenkrais, Continuum, Experiential Anatomy, Experiential Breath

Module 4

18.03.-24.03.2023 | Connection - Transitions 2 - Space and group

Bodily focus: nervous systems / organs of all senses
Yoga: complex asanas - Movement transitions & connection of all learned series - reversal asanas - meditation
Nada Yoga
Somatics: Feldenkrais, Continuum, Experiential Anatomy, Experiential Breath

Module 5

15.05.-21.05.2023 | Integration - midtearm graduation 

Bodily focus: Organs
Yoga: Pranayama - Philosophy - Didactic
Somatics: Feldenkrais, Continuum, Experiential Anatomy, Experiential Breath

 
Curriculum 2nd year of education (Continuing education 300h)
Module 6

22.09.-24.09.2023 | Depth

Methods: Yoga & Continuum
Principals: Deep Tissue / Space & Time Experience
Philosophy

Module 7

03.11.-05.11.2023 | Confidence

Methods: Yoga & Experiential Breath
Principals: Breathing spaces / breathing rhythm / breathing power / narrowing and widening / multidimensionality / Pranayama
Breath & meditation
Experiential Anatomy: Breathing

Module 8

01.12.-03.12.2023 | Elasticity

Methods: Yoga & Feldenkrais method
Principals: Dynamics / Power / Dosierung / Richtung
Experiential Anatomy: Faszia

Module 9

05.01.-07.01.2024 | Compositions

Methods: Yoga & Sequencing
Principals: Choreography / Improvisational strategies
Didactic – Prinzipals of somatic pedagogy

Module 10

09.02.-11.02.2024 | Resonance

Methods: Yoga & sound
Principals: Nada Yoga / Listening / Stillness / Sound meditation / Sound improvisation
Psychology
Experiential Anatomy: Heart / Larynx / Ear

Module 11

 16.03.-22.03.2024 | Integration - Graduation

Methods: Yoga & Hands on
Principals of Somatic Alignement / Working experience
Graduation and teaching session
Seminarleiter*innen
Founder of the Somatic Academy Berlin, Breath Therapist/based on the work developed by Prof. Ilse Middendorf, Continuum Teacher and Heilpraktiker (Psychotherapy)
"I had the honor and privilege to learn from the two founders Prof. Ilse Middendorf (Perceptible Breath / Erfahrbarer Atem) and Emilie Conrad (Continuum) and I am pleased to be able to pass on this work." Since 2012, Kai has been developing professional trainings at the Somatic Academy as well as programs dedicated to the application of Somatics in everyday life. He has been a co-curator of the Body IQ festival since 2015. Since 2003, he has developed the approach "Authentic Eros", which integrates - as a somatic application - bodywork, relationship communication and group-dynamic processes in the area of personal and interpersonal development. He is a member of the professional associations Atem, Continuum and ISMETA.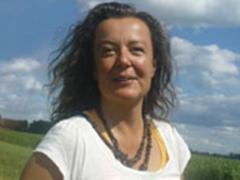 Theater, Linguistics & Political Science M.A., Founder of the Somatic Academy Berlin and the Center for Yoga and Voice
many years of work in the field of directing & dramaturgy, author. Since 2004 Yoga teacher and facilitator of the BDY/EYU, Somatic Yoga trainer. Breath therapist according to Prof. Ilse Middendorf, breath & voice instructor. Besides the encounter of eastern and western philosophical concepts of the body, her main interest is the theory & practice of somatic practices as well as the questions of social and political relevance of "somatics" today.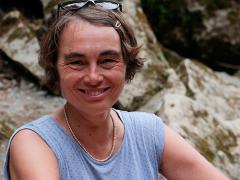 Dance | Choreography | Performance | Somatics | Artistic Research | Walking Art | Mountain Hiking Guiding
Continuing education lecturer and director of Environmental Somatics and EMERGE/ Somatic in Dance at the Somatische Akademie Berlin. Member of the German Feldenkrais Association & ISMETA-registered RSME/RSMT/RSDE.
Trained as a physical therapist, Feldenkrais teacher, and mountain hiking guide, as well as in contemporary dance, (contact) improvisation, instant composition.
Conscious and embodied learning, the potential between individual freedom and collective inclusion in the environment, as well as joy, ease, and consciousness in the movement are the focus of her teaching. Her research-oriented practice is informed by deep-sensing investigation and reflecting evaluation. Beyond teaching her work includes performance projects, conference papers, and publications focusing on somatics and choreography, as well as on walking. Regular teaching at universities including FU Berlin, UdK Berlin, and HZT Berlin. Artistic research collaboration with AREAL_artistic research lab Berlin.
Anmeldeinformationen
Zahlung Banküberweisung, PayPal
Hinweise
Dieses Event ist Teil der Somatic Yoga Ausbildung (500 +140 UE), kann aber auch einzeln als Workshop gebucht werden. Es findet hier statt:
Somatische Akademie, Paul-Lincke-Ufer 30 | 10999 Berlin
01.-03. Dezember 2023 | Freitag-Sonntag 10:00 - 17:30 Uhr