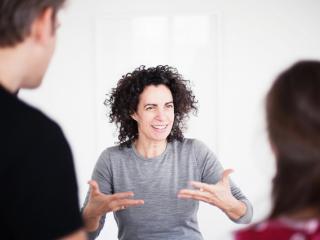 - Radical Presence & Embodiment Skills as Ressources
with Christa Cocciole
Modules 2-4 can only be booked if the first module has been attended either in Berlin or Frankfurt.
In this 4 part Training we will have 2-day intensives, where people working with Embodied practices will have the opportunity to enrich their knowledge of boundaries, consent and the potential of "post-traumatic growth". By diving in to theory as well as allowing enough time for experiential based exploration, inner wisdom as well as resilience will strengthen for the giver and receiver of transformational work.
The first module can be booked individually to get to know Christa Cocciole and her work.
Modul 1: Introduction & Ressources 14./15.08.20
Modul 2: Embodiment & Trauma 13./14.11.20
Modul 3: Self-awareness & Resonance 22./23.01.21
Modul 4: Transformation, Integration & Ease 05./06.03.21 
Ausführliche Seminarinformationen
Seminarleiter*innen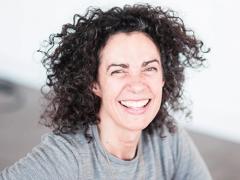 Christa Cocciole (USA/D) weaves her skills as a Dancer and Choreographer into her work as a Systemic Body Oriented Therapist with a specialty in Trauma. She has worked in settings such as reconciliation projects during and after the Bosnian War, community cultural organisations, Universities and International dance theatre companies. Currently she is working in an adult psychiatric clinic in Berlin as well as in her private Practice and teaching Embodiment internationally. She integrates her therapeutic and artistic experience along with her spiritual practice in an approach she coined "Radical Presence – moving with playful compassion".
Anmeldeinformationen
Zeiten
Friday: 6:30pm-9:30pm Saturday: 11am-5:30pm
Veranstaltungsort
Berlin
SAB Studio 1
Paul-Lincke-Ufer 30
Berlin
Zahlung nur nach Bewerbung