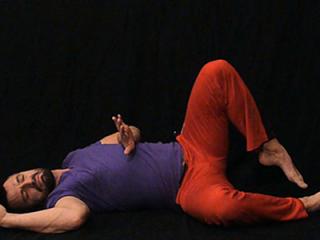 - Life Cycles & Initiation
Continuum Training Module 8 with Kai Ehrhardt
This module is dedicated to the themes of life cycles, death and initiation. Over the first four days, a Continuum Movement sequence is introduced, explained and practised. Each element has a different function and effect on the overall system, but all train permeability, presence and the ability to surrender. From the bones to the skin, from breathing to metabolism, and from head to toe, the body is brought into vibration through movements and sounds and thus becomes more receptive to subtle impulses and self-regulatory processes on a physical and energetic level. The "knowledge" of the body that can be experienced through movement is awakened and given space through movement and presence. All participants practise for themselves, within a sound resonance field created and sustained by the group. Each day ends with a longer continuum sequence that integrates the work of the previous days. The last 36 hours are no longer interrupted by language. This allows everyone to engage with their own rhythms and themes.
Ausführliche Seminarinformationen
Furthermore, Continuum can support our ability: 
to be empathic and relational
to be clear and decisive
to orient and adapt
to be vital and persevering
to self-regulate and harmonize
to be autonomous and team-minded
to act from the awareness of dynamic context
to process and reflect 
to be resilient  

Touching the history of Continuum to inquire into its future

This program - taught by 8 teachers -  integrates various decades of Continuum material. All teachers studied with Emilie Conrad who originated Continuum in the 1960's and developed it until her death in 2014.

Emilie Conrad taught in a constant state of inquiry. While each step embedded and enfolded the previous one, it also meant students entering the work in the 80's were exposed to different material than students entering it in the 2000's. This program attempts to bring together various Continuum "periods" by bringing together teachers who were introduced to the work at different times. 

The very nature of Continuum is to witness ourselves as a living process, open to the ongoing evolution of teachings and applications. Even though we follow basic core principles, Continuum remains an ongoing, unfolding inquiry into the mystery of conscious human life. Through the variety of teachers in this program, we hope to encourage students to trust their own inquiry, somatic movement research and to develop their own style.

For whom is this program?
This program is for lay people, somatic professionals, therapists, teachers, creatives, leaders, innovators - anyone who has a body - anyone who wants to connect more deeply to what it means to be human.  


Certification and/or Mentorship

Somatic Academy Berlin Certification 
Would you like to become a certified Somatic Movement Educator with specialization in Continuum work?
The Somatic Academy Berlin offers a 500 hrs ISMETA certified training to become a Somatic Movement Educator, which includes a total of 2 parts.
This program fulfills the requirements of a specialization training at the Somatic Academy Berlin.
You will learn to integrate Continuum into the larger context of somatic methods and approaches. Completion of all modules is required for certification.
Continuum Teachers Association (Mentor & Membership Model)
Kai Ehrhardt, director of the Continuum Moving Inquiry Training of the Somatic Academy Berlin, is a member of the Continuum Teachers Association (CTA). For more information about the Continuum Teachers Association go to: www.continuumteachers.com.
By itself this Continuum Training does not authorize to teach Continuum.
Attending for personal reasons or needs
If you are neither interested in certification or CTA membership you can pick and choose individual modules. 
You do not have to attend the entire program.
General Prerequisite:

Please check with Kai Ehrhardt for details at ehrhardt@somatische-akademie.de
Seminarleiter*innen
Founder of the Somatic Academy Berlin, Breath Therapist/based on the work developed by Prof. Ilse Middendorf, Continuum Teacher and Heilpraktiker (Psychotherapy)
"I had the honor and privilege to learn from the two founders Prof. Ilse Middendorf (Perceptible Breath / Erfahrbarer Atem) and Emilie Conrad (Continuum) and I am pleased to be able to pass on this work." Since 2012, Kai has been developing professional trainings at the Somatic Academy as well as programs dedicated to the application of Somatics in everyday life. He has been a co-curator of the Body IQ festival since 2015. Since 2003, he has developed the approach "Authentic Eros", which integrates - as a somatic application - bodywork, relationship communication and group-dynamic processes in the area of personal and interpersonal development. He is a member of the professional associations Atem, Continuum and ISMETA.
Kosten
Dates:
| | | |
| --- | --- | --- |
| thursday - sunday | 21. - 26. Oct. 2025 | 10:00am -05:30pm |
Costs:
Single Module
Early Bird: 440€ (until 06.01.2023) 
Grundpreis: 490€
Cost of full program 3400€
Earlybird for the full program 2900€ (10. Februar 2023)
10 installments full program 10 x 340€
20 installments full program 20 x 180€
The early bird price is available up to 6 weeks before the training starts.
Anmeldeinformationen
Veranstaltungsort
Berlin
SAB Studio 1
Paul-Lincke-Ufer 30
Berlin
Preise
Earlybird: 440.00 EUR
Full Price: 490.00 EUR
Zahlung Banküberweisung, PayPal