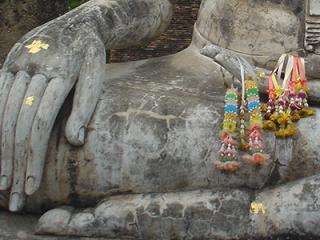 - Introduction to the Intuitive Thai Meridian Massage Training
try, get to know & ask
On this trial day we invite you to get to know the basics of the Intuitive Thai Meridian Massage. We combine learning a short massage sequence with getting to know some aspects of the Thai energy pathways. We explore the possible freedom that comes with trusting principles of touch and our intuition.
The curriculum of the training will be presented and there will be time for questions.
ITMM Training (88h) information >> here
Ausführliche Seminarinformationen
For whom the approach is recommended and suitable

for people, who are looking for a balancing and effective method to support physical movement ability and relaxation.
for movement and yoga practioners, who are looking for a new approach and who want to deepen their practice.
for educators and health practioners, looking for further education, which combines hands on knowledge and helps them discover their own intuitive potential.
for interested people of other somatic methods, who want to widen their perspective and experience.
PART 1 (Modules 1-4): Introduction to ITMM Massage / Basic Principles of Touch 
This part leads through all possible massage positions and allows the participants to practice a complete massage sequence from foot to head.

Module 1: Thai Massage Practice 1
Focus on Prone Position (lying on the back) + Facemassagee
Module 2: Thai Massage Practice 2
Focus: Side Position and use of foot for the massage
Module 3: Thai Massage Practice 3
Focus: Belly Position and sitting position + deepening use of arm/ hand/ ellbow
Additional: Thai Cultural Background
Module 4: Thai Massage Practice 4
Focus: on Sittig Position+ Transition into lying Position ( shoulder and neck massage ) 
Integration/Summary and massage with all elements of the introductory part
PART 2 (Modules 5-8): Energy und Meridian Work
This part deepens and complements the learned practical skills of Part 1 by getting to know the essential course of the ten Thai meridians. It also gives intuitive impulses for direct application of the Thai meridians in practice.

Module 5: Deepening and Thai Meridian Learning 1
Focus: Centering and Balancing the left and right body side
Module 6: Deepening and Thai Meridian Learning 2
Focus: Detoxification and Balance of the emotional body
Module 7: Deepening and Thai Meridian Learning 3
Focus: Balancing the emotional Body
Module 8: Deepening and Thai Meridian Learning3
Focus: Special symptoms in the belly area + Qualities of the four elements 3. Integration and Final Massage with all elements from the first and second part. 
Hours:
Saturday 10:00am - 05:30pm including lunch break (about 6,5 hours)
Sunday 10:00am - 3:30pm including lunch break (about 4.5 hours)
>> 8 times 11 hours = 88 hours training
Dates Training 2022/23:
Part 1 - Module 1: Saturday 03 - Sunday 04 September 2022
Part 1 - Module 2: Saturday 08 - Sunday 09 October 2022
Part 1 - Module 3: Saturday 05 - Sunday 06 November 2022
Part 1 - Module 4: Saturday 03 - Sunday 04 December 2022
Part 2 - Module 5: Saturday 25 - Sunday 26 February 2023
Part 2 - Module 6: Saturday 25 - Sunday 26 March 2023
Part 2 - Module 7: Saturday 29 - Sunday 30 April 2023
Part 2 - Module 8: Saturday 27 - Sunday 28 May 2023
Anmeldeinformationen
Veranstaltungsort
Berlin
SAB Studio 2
Paul-Lincke-Ufer 30
Berlin
Zahlung Banküberweisung, PayPal
Hinweise ITMM Training (88h)
 information >> 
here