Individual work
Einführung
Most of the Somatic Academy's team members offer individual sessions. Please contact them directly if you are interested in an individual session. 
Die Therapeuten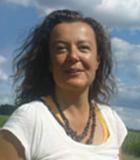 Theater, Linguistics & Political Science M.A., Founder of the Somatic Academy Berlin and the Center for Yoga and Voice
many years of work in the field of directing & dramaturgy, author. Since 2004 Yoga teacher and facilitator of the BDY/EYU, Somatic Yoga trainer. Breath therapist according to Prof. Ilse Middendorf, breath & voice instructor. Besides the encounter of eastern and western philosophical concepts of the body, her main interest is the theory & practice of somatic practices as well as the questions of social and political relevance of "somatics" today.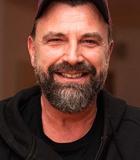 Founder of the Somatic Academy Berlin, Breath Therapist/based on the work developed by Prof. Ilse Middendorf, Continuum Teacher and Heilpraktiker (Psychotherapy)
"I had the honor and privilege to learn from the two founders Prof. Ilse Middendorf (Perceptible Breath / Erfahrbarer Atem) and Emilie Conrad (Continuum) and I am pleased to be able to pass on this work." Since 2012, Kai has been developing professional trainings at the Somatic Academy as well as programs dedicated to the application of Somatics in everyday life. He has been a co-curator of the Body IQ festival since 2015. Since 2003, he has developed the approach "Authentic Eros", which integrates - as a somatic application - bodywork, relationship communication and group-dynamic processes in the area of personal and interpersonal development. He is a member of the professional associations Atem, Continuum and ISMETA.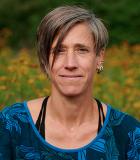 Dancer, -educator, choreographer, Body-Mind Centering® SME -Integrative Bodywork and Movement Therapy-SMT, MA Performance Studies/Choreography, Mother
Since 2005 various research formats on dance and somatics. 2010-2021 Global Water Dances Performance Collective of Berlin - site-specific performances on the theme of water. As an ISMETA registered Somatic Dance Movement Educator (RSDME/RSME), she is interested in the human unfolding process, including the ability to meet others at eye level, find freedom of choice, and express creativity. The somatic approaches Body-Mind Centering® and Authentic Movement support creative processes by inviting complexity, dimensionality and diversity The self and relationship to the environment can be explored. Contact Improvisation is a dance form with two or more dancers by sharing a point of contact and weight. 2018-2019 Continuing Education: Discipline of Authentic Movement, Contact Improvisation.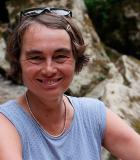 Dance | Choreography | Performance | Somatics | Artistic Research | Walking Art | Mountain Hiking Guiding
Continuing education lecturer and director of Environmental Somatics and EMERGE/ Somatic in Dance at the Somatische Akademie Berlin. Member of the German Feldenkrais Association & ISMETA-registered RSME/RSMT/RSDE.
Trained as a physical therapist, Feldenkrais teacher, and mountain hiking guide, as well as in contemporary dance, (contact) improvisation, instant composition.
Conscious and embodied learning, the potential between individual freedom and collective inclusion in the environment, as well as joy, ease, and consciousness in the movement are the focus of her teaching. Her research-oriented practice is informed by deep-sensing investigation and reflecting evaluation. Beyond teaching her work includes performance projects, conference papers, and publications focusing on somatics and choreography, as well as on walking. Regular teaching at universities including FU Berlin, UdK Berlin, and HZT Berlin. Artistic research collaboration with AREAL_artistic research lab Berlin.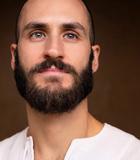 Thai Massage Therapist, Theater Teacher, Dancer, Yoga Instructor, Global Activ Streching® Instructor

For a few years the study of Thai massage has caught me. I have been able to study different methods and lineages, all of them with the possibility of generating valuable results in people's health. The elements of massage, such as joint and soft tissue mobilization, acupressure and stretching favor better functioning of the lymphatic and circulatory systems, digestive processes and reduce levels of stress and body tension.
As a masseur I found the possibility of establishing a kind and attentive bond with the person receiving the massage.
From the first contact, a kind of choreography is created in which the masseur proposes and invites the patient to trust his movements, to trust the diversity of touches that are part of the technique, with which to stimulate the patient and enable the desired effects. Therefore, attentive and constant listening to the needs of the person receiving the massage are especially taken into account.
The continuous practice of this massage technique undoubtedly contributes to a better quality of life, for this reason it also fills me with joy to be able to contribute in this sense by offering a massage to all those who wish to discover or deepen in this beautiful path.