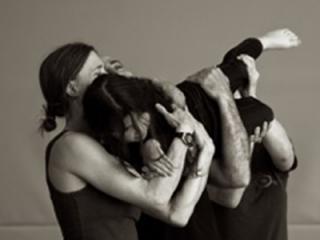 - Einführungsworkshop: somatische Pädagogik
Entfaltung
Dieser Einführungsworkshop widmet sich der menschlichen Evolution vor der Geburt und der Entfaltung des Lebens.
Wir werden in die Embryologie praktisch eintauchen, insbesondere in die Entwicklung der Organe, des Nervensystems und des muskuloskeletären Systems. 
Neueste wissenschaftliche Studien belegen die Wichtigkeit der Einbeziehung der Embryonalentwicklung auf den menschlichen Entfaltungsprozess. Wir zeigen einen innovativen Ansatz, wie Kinder, Schwangere und Fürsorgende, Begleitung und Unterstützung bekommen und geben können.
Dieser Workshop gibt Einblicke in die
Fortbildung Somatische Begleitung & Arbeit mit Kindern
.
Ausführliche Seminarinformationen
This innovative training combines several  somatic methods (IBMT; BMC®, INPP, Feldenkrais, Cranio-Sacral Osteopathy, Experiential Anatomy, Authentic Movement) with the latest theory and research on child development. A somatic approach can provide effective and simple support for babies, children and adolescents who are facing challenges in learning, development or emotional regulation, whether big or small. This programme will support you to integrate somatic approaches into your practice, providing  a combination of body awareness and embodiment training with practical somatic exercises and approaches appropriate to specific client groups. 

Who is this training suitable for?
The training offers a comprehensive professional development programme suitable for those working with babies, children and young people in a range of education and health care contexts. It is relevant to educators, social workers, midwives, doulas, physiotherapists , paediatric nurses, doctors , teachers, psychologists and no medical practitioners in the field of dance, music and theatre provision for children.

Traning Structure
This is a 200 hour Training programme organised into 7 modules. It is recognised as  Part C of the Somatic Professional Training Programme.    


Training Goals:

Familiarity with the fundamentals of child development
The ability to  recognise the profound interconnections between the nonverbal and verbal dimensions of consciousness
A somatic and theoretical understanding of the ongoing development and learning processes
An understanding of  the interpersonal emotional exchange of the development process and how to support it in relationship
Knowledge of the psycho-physical processes of learning
An understanding of Brain development
The ability to recognise different developmental aspects of the different client groups
The  ability to integrate somatic approaches and methods into working with children
An understanding of the Importance and fundamentals of communication with parents and carers
Skills to recognise  developmental and learning challenges within their client group.

Once qualified you will:

Be able to develop playful-somatic movement programs for different age groups, which support their development.
Be familiar with"preverbal language" and able to playfully integrate childhood movement development and reflexes in a variety of contexts
Be able to recognise and understand the presence of persistent primitive reflexes and be able to implement strategies to address this. 
Be able to recognise compensatory behaviours in your client group 
Be able to identify and develop support possibilities for development and learning difficulties / blockages
Create an appreciative, appreciative and attentive atmosphere as a place of learning and playing

Graduation Requirements:
Proof of 10 hours observation.
One class presentation
Case study or practical research, documented in an essay of maximum 3,000

Applied somatic methods of further education:

IBMT (Integrative Bodywork- and Movement Therapy)
Neurophysiological Psychology
Feldenkrais
Contact Improvisation
Ideokinesis
Body-Mind Centering®
Osteopathy
Dance
General content:

Embryology
Tone
Development of the vestibular system
Reflexes
Primitive reflexes
Postural reflexes
Human Movement Development
Brain development
Learning
development of the nervous system
information processing
physiological learning processes
new ​​versus re-learning
creating a supportive space for learning
Self awareness
dealing with resistance
achievement evaluation
age-appropriate mediation
Ages
teenagers
8-11 (development of sexuality)
3-7/8 (Postural reflexes should be integrated)
0-3
Practice-related mediation
Games: Movement activities / Support / Touch
Touch: as support not as correction /alternatives to touch
Subjects:
Experiential Anatomy
A variety of Somatic methods
Context / practical application / practice fields
Integration
Hands on
Case  study discussions
Dates 2020/21
Module 1: Saturday 04.04. - Tuesday 07.04.2020 
Module 2: Monday 19.10. - Friday 23.10.2020
Module 3: Friday 08.01.- Sunday 10.01.2020        
Module 4: Monday 05.04. - Friday 09.04.2021           
Module 5: Monday 02.08. - Friday 06.08.2021        
Module 6: Friday 29.01. - Sunday 31.01.2021           
Module 7: Monday 11.10. - Friday 15.10.2021
Seminarleiter*innen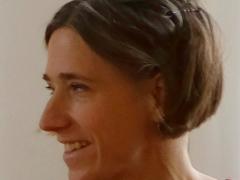 Heike Kuhlmann works as dancer, pegagoge, choreogafer and BMC® Somatic Movement Educator/Therapist (SME/SMT). Her diploma in Integrative Bodywork & Movement Therapy (DIPL IBMT) has the emphasis on Body-Mind Centering®, Authentic Movement and Somatic Psychology. Since her Master in Performance Studies/ Choreografy she researchs how somatics can support the artistic expression. Being member of the Global Water Dances Performance Kollektiv Berlin she dances and choreografs sitespecific performances on the subject of water. She works on the connections between art/politics and art/pedagogy/therapy. In Berlin she teaches Contact Improvisation, Somatic Movement Education (e.g. Embodying Movement, Authentic Movement) and Contemporary Dance.
Kosten
Sozialpreis: 10€
Grundpreis: 15€
Unterstützerpreis: 20€
Anmeldeinformationen
Veranstaltungsort
Berlin
SAB Studio 1
Paul-Lincke-Ufer 30
Berlin
Preise
Sozialpreis: 10.00 EUR
Full Price: 15.00 EUR
Supporter Price: 20.00 EUR
Zahlung Banküberweisung, PayPal